With genetic engineering, artificial intelligence and nanotechnology, technological progress has a major impact on healthcare. Radiology is also a subfield of healthcare in which technological progress plays an enormous role. For this reason, imaging is also becoming increasingly important in healthcare and is now indispensable.

Despite the enormous technological progress, some aspects of radiological imaging, such as patient positioning or even the interaction between radiology staff and patients, will probably never lose their importance.

After all, these are all key areas to ensure a high-quality examination result. Therefore, the following blog will now take a closer look at the importance of patient positioning today and in the future.
Importance of optimal patient positioning today
There are many benefits to optimal patient positioning for medical imaging and radiotherapy. First of all, optimal patient positioning ensures patient comfort and maximises patient co-operation throughout their imaging procedure for a successful completion of their examination.
Comfort can relate to minimisation or avoidance of any new pain on tension in the body; It can also relate to the patient having the optimal support for parts of anatomy that they may already know to have an injury or weakness, to avoid aggravating this injury or weakness. As a consequence, patients can stay still for longer, if needed, to complete a successful examination and to get the optimal diagnostic result.
A patient who can remain still because of optimal positioning, minimises the occurrence of any motion related image artefacts, which can hamper diagnosis, and therefore allows optimal treatment pathways. These artefacts can manifest themselves as ghosting, blurring, or ringing artefacts on images and they severely affect image quality, minimising diagnostic confidence1. While many different imaging sequences are now faster than ever before to allow some degree of motion resistance and software exists to correct for motion, optimal positioning ensures the raw, native imaging data have the best quality for diagnosis.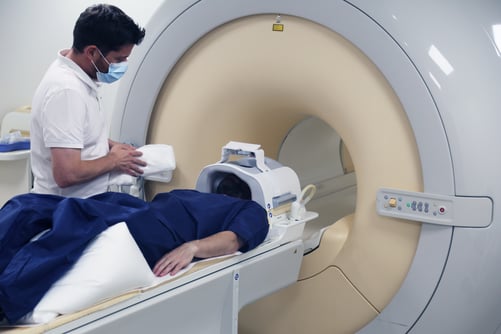 Furthermore, optimal patient positioning creates trust between the patient and the healthcare provider and ensures a positive patient experience. Optimal patient experience is central to the delivery of healthcare, as it ensures the patient will come back for another examination, if needed, for the continuum of diagnosis and treatment. It also supports positive feedback for the healthcare provider and diagnostic procedure; as this feedback can now be shared with many other users through social media and beyond, every effort to improve patient experience is like an extra "vote of confidence" to the healthcare system and procedure involved. Patient experience is so vital that is it captured as part of economic analysis for healthcare delivery in patient reported experience measures (PREMs).
Finally, optimal patient positioning is vital also for patient safety as it can reduce dose, minimise scan time and improve patients' vital signs during imaging. For instance, supine positioning for pregnant people during MRI scans should be avoided, with a preference to a left lateral tilt, to prevent inferior vena compression.2
Patient positioning in the Future
Optimal patient positioning is not only important to minimize motion artifacts and to improve patient experience and patient safety, but it is also central to the reproducibility of acquiring data for clinical trials, artificial intelligence tool design, validation, evaluation and redesign. As large numbers of data are needed to train an AI algorithm, standardisation of positioning is vital for anatomical landmarks to be decided within that large sample size but also for pathology localisation. Given the variety of patient body habitus, positioning in these AI studies can often be the only, and much needed constant, for accurate measurements to occur. Conversely, AI technology can be used to evaluate the variability of patient positioning as a vital reference point for the evaluation of image quality and diagnosis.3
Standardised patient positioning is also necessary for medical imaging longitudinal studies to show progression of disease or for treatment monitoring. Standardisation of positioning during data acquisition for AI tool design is vital for optimal image quality (signal-to-noise ratio, contrast, spatial resolution and avoidance of image artefacts) to ensure the differences in imaging result from the different AI algorithm permutations and not from patient induced variations. Despite all these new technologies, patient positioning remains vital as it provides the ground truth and reference for image quality from native, unprocessed data.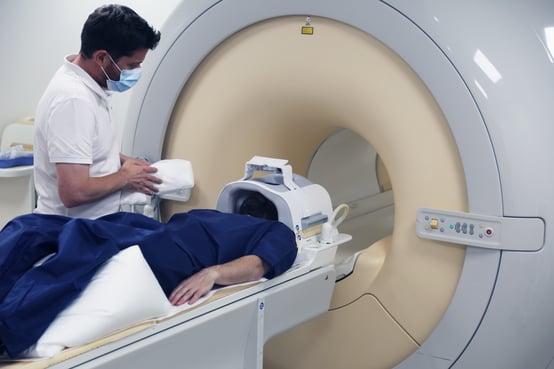 Future patient positioning tools will need to comply with increasingly complex safety guidelines but also be adaptive to the imaging modality of use and patient habitus and preferences. Infection control will remain a key focus beyond the pandemic and positioning tools should be easy to disinfect. These tools will also need to address the needs of the increasingly ageing population but also hopefully, with increasing accessibility to healthcare of different populations, after years or advocacy and research, these tools will need to be co-designed and tested by patients themselves, to improve their experience and directly address their complex needs and preferences. This is an exciting time and one where direct patient input can shape future healthcare provisions in positioning and beyond, exactly as it should be, as it is their needs we need to meet and their preferences to address.
Conclusion
To conclude, patient positioning plays an important role for today's radiography and medical imaging. It improves patient comfort as well as patient cooperation. Because of the increased comfort, the patient can also lie still for a longer period of time, which in turn leads to fewer movement artefacts and ultimately to an optimal diagnosis. Patient positioning is also vital to create trust between the patient and the healthcare provider which successively has a positive impact on the patient experience. Further an optimal patient positioning is also beneficial for the patient's safety because it can reduce dose and minimise scan time.
An optimal Patient positioning is also vital for the future when artificial intelligence plays a more important role for medical imaging and radiography. Due to a standardised patient positioning it is easier to train the artificial intelligence with standardised data, which improves the entire image quality. Consequently, it only makes sense to say that in the future one should focus more and more on the well-being of the patient in the radiology department.
Kredits an: Dr. Christina Malamateniou, PhD (MRI), MA (Clinical Education), DIC, MAcadMEd, B.Sc. Hons, SFHEA
ABOUT PEARL TECHNOLOGY
Pearl Technology AG, based in Schlieren, offers innovative solutions for the placement, positioning and immobilization of patients in radiology and radiotherapy. The products are manufactured in Switzerland according to ISO norm 13485 and are characterized by simple handling, high patient comfort and excellent hygiene which guarantees smooth and safe examination processes.
Download further information on our patient positioning portfolio for radiology and nuclear medicine or contact us directly in order to receive further information on our patient positioning solutions.
LIST OF REFERENCES
1. Malamateniou C, Malik SJ, Counsell SJ, Allsop JM, McGuinness AK, Hayat T, Broadhouse K, Nunes RG, Ederies AM, Hajnal JV, Rutherford MA. Motion-compensation techniques in neonatal and fetal MR imaging. AJNR Am J Neuroradiol. 2013 Jun-Jul;34(6):1124-36.
2. Fujita N, Higuchi H, Sakuma S, Takagi S, Latif MAHM, Ozaki M. Effect of Right-Lateral Versus Left-Lateral Tilt Position on Compression of the Inferior Vena Cava in Pregnant Women Determined by Magnetic Resonance Imaging. Anesth Analg. 2019 Jun;128(6):1217-1222. 
3. S. Young, M. Kotnik, L. Lin, M. Sevenster, N. Wieberneit, T. Harder, S. Krönke, D. Bystrov, H. J. Lamb. Measuring patient positioning quality in clinical chest radiographs, ECR 2020 abstracts, EPOS https://epos.myesr.org/poster/esr/ecr2020/C-12328 (accessed July 6th 2022)